In Issue 4, we challenged you and your students to design the cover for Science in School and were very impressed by the quality of the entries. Despite gloomy studies about decreasing interest in the sciences, there are clearly a lot of very enthusiastic and artistically gifted young scientists in…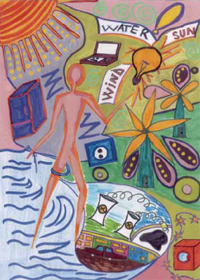 Selecting the winners from among such talented artists was not easy. Congratulations to 13-year-old Raluca Barza, the winner of the 10-14 age category. Judging the 15-19 age category was even more difficult. After much thought, we chose as our cover picture Chemistry is where life starts by Elena Pascal, aged 18. We also liked Alina Postu and Anca Gabriela Banea's striking pictures.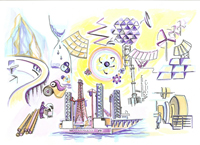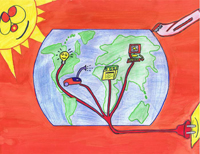 Particular congratulations are due to Lidia Minza from Romania, who encouraged her students to submit many very beautiful pictures.
Sadly, we had only one entry in the teacher category. If we run this competition again, we hope more of you will find the time to put pencil (paint, crayon, whatever) to paper and demonstrate your talents.
Congratulations to all the entrants. We enjoyed judging the competition and I am sure our readers will enjoy the pictures we chose.
---
Download